It has always been known that the DWP (Department Of Work And Pensions) surveil benefit claimants who are suspected of committing fraud. This is often based upon their opinion and reports made by members of the public, but how in depth their surveillance is was previously unknown.
In 2019 the DWP published their two part staff guide on conducting fraud investigations. Thanks to Privacy International who went through the 995 pages of the report to help people understand how these investigations happen and how the DWP is surveilling claimants suspected of fraud.
Here are some of their findings.
They found that the DWP do conduct physical surveillance of benefit claimants.
The DWP can ask private companies such as Paypal, supermarkets etc to hand over any data that they might have on benefit claimants to them.
Not surprisingly, because we have all seen the tabloid newspapers reporting stories focussing on benefit cheats and clamping down on them. This is because the DWP actively works with tabloid newspapers to share this narrative, which then creates a hostile environment that legitimises this narrative and creates a constant fear for vulnerable claimants.
The DWP are only authorised to conduct directed surveillance. and are entitled to surveil claimants in order to obtain information without contacting the claimant involved first.
How do they do this?
The DWP can claim papers, handwriting and departmental system prints.
Interviewing witnesses and obtaining witness statements.
Interviewing claimants under caution.
Intelligence gathering.
The DWP guidance states that they can examine mobile phones and tablets because of the amount of information that's stored on these devices.
DWP officers are encouraged to approach third parties to get information.
On page 316 of part of one, the guide reads: "The Criminal Procedures and Investigation Act (CPIA) Code Of Practice (COP) makes it clear that to establish the facts about an offence you can question any person, whether suspected or not, who you think might have useful information. If a person, including a third party, has useful information you should ask for it."
So basically a claimant is guilty before being found innocent.
The guide contains some instructions as to how DWP officers should go about approaching third parties. These instructions include that they have to be clear that they are from the DWP if they are questioned, they should also remember that the person they are investigating may be innocent. They are told to not reveal the source of the suspicion, remembering that the third party may also be involved in suspected fraud.
The guide quotes Article 8 of the European Convention on Human Rights which is the right to respect for one's private and family life. It is quoted on page 316 of the report and is immediately followed by an explanation on the specific circumstances in which the DWP may legitimately interfere with it.
"If DWP are to interfere with this Convention right it must be proven that all other avenues to obtain the evidence have been explored. However, in a case, which consists of various circumstantial evidence, it may only be possible to bolster the evidence to the criminal standard by providing evidence from third parties. Additional justification may be on the grounds that it would prevent or detect a crime"
Physical surveillance is also used by physically watching an individual and also using CCTV footage that can be obtained by the DWP without requiring PIPA authorisation.
The surveillance team can gather photo and video evidence.
The DWP also encouraged to use open source information such as social media, internet use, internet chat rooms, forums and websites to gain information regarding benefit fraud.
DWP officers are advised to cautious about gaining information in this way. They are told that they still need to give a claimant some expectation of privacy regardless that this very act takes away a persons privacy. This in turn causes distress for the claimant that they're investigating.
The following advice is given: "If officers consider that there is a need to view material over a protracted period of time to accumulate private information or monitor the individuals activities, i.e. anything thing more than twice, then they should be considering an authorisation under Regulation of Investigatory Powers Act 2000 (RIPA), as repeat viewing may constitute directed surveillance. There is a professional responsibility for individuals to ask themselves why they want to look at the material, and what they will do with the information. Single use open source will generally not amount to directed surveillance but expectation of privacy still needs to be considered." [part two, page 80].
The DWP uses this information to;
Obtain information about a claimants activities
Obtain information to be used in a future interview
To observe a claimants movements or work pattern
To establish where a claimant lives
To obtain evidence for a possible court case.
How does this affect disabled people?
The DWP assesses if someone claiming disability benefits is disabled. They often use physical surveillance to do so. They can also use a claimants social media to assess their mental capacity too.
They do this without any medical qualifications and often without any knowledge of a persons disability and how it affects them.
The DWP are supposed to take psychological distress component into consideration whilst at the same time not describing how to do this, thus not taking it into consideration at all.
The DWP have always used used surveillance to check upon a persons relationship and to see who a claimant lives with to see if they're claiming the correct benefits. The DWP reminds their employees that living together as a married couple is not in itself an offence whilst at the same time financially punishing them for doing so.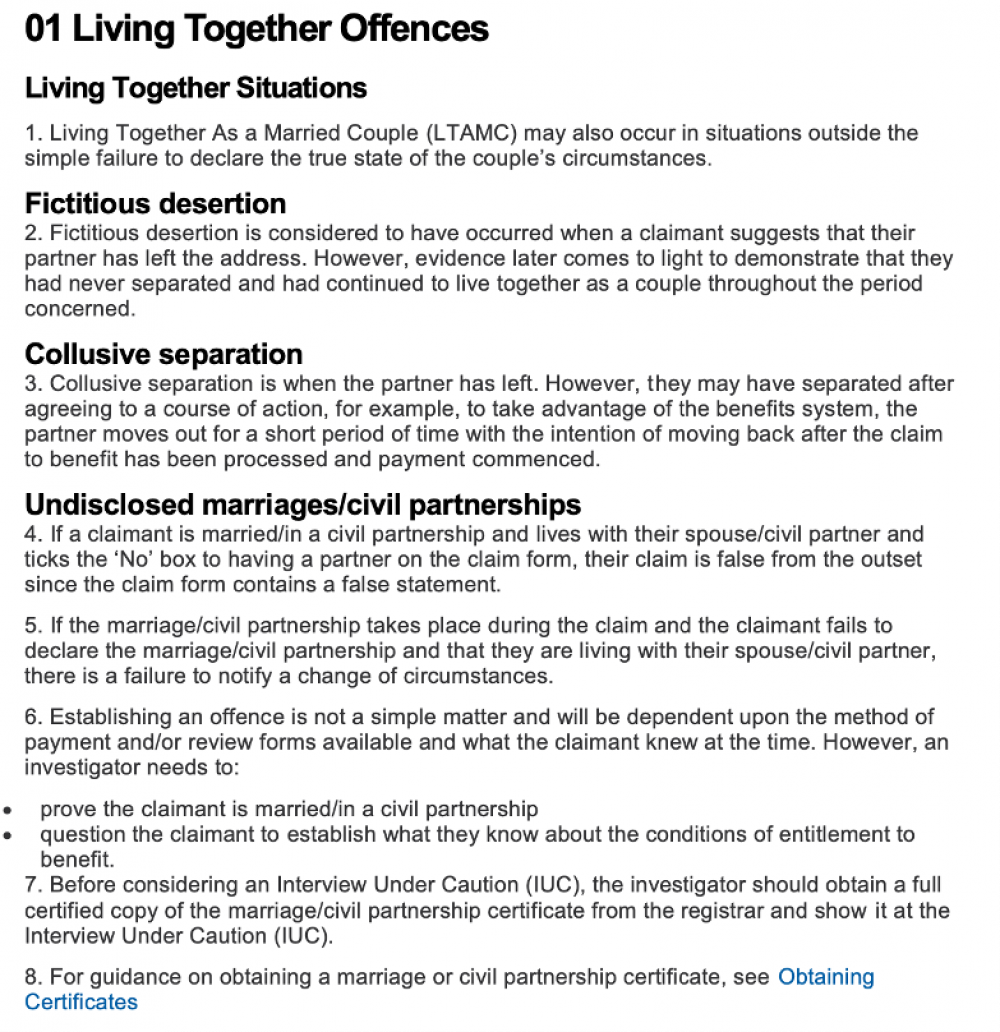 The DWP also has the authority to contact third party organisations such as
banks (including credit unions),
credit providers,
insurers,
credit reference agencies,
money transfer companies,
water and sewerage undertaker or authority,
gas and electricity providers,
telecommunications services,
educational establishment or institutions,
The Student Loans Company.
banks (including credit unions),
credit providers,
insurers,
credit reference agencies,
money transfer companies,
water and sewerage undertaker or authority,
gas and electricity providers,
telecommunications services,
educational establishment or institutions,
The Student Loans Company.
Airlines, which can hand over names of passengers and dates of travel (EasyJet is listed separately, as it falls under the "abroad fraud desk". They can hand over passenger and booking information)
Bingo clubs, which can hand over membership details
The BBC, which can hand over TV licence holder name, method of payment and date of expiry
Sky, which can hand over Sky Broadband and Sky Talk subscriber details
Estate agents, who can hand over owner details, purchaser details, price, dates, method of payment and lettings
Golf clubs, gyms, leisure facilities and sports club, which can hand over membership details and activities undertaken
Harbour masters, who can hand over details about boat-ownership, boat-movements, dates and berthing fees
Legal Aid Board, which can hand over details of Legal Aid claims.
National Health Service Counter Fraud, which can hand over GP registration and checks of medical cards
National Health Service Trusts, which can hand over next of kin details and declared addresses
National Health Service Trusts & Hospitals, which can hand over details of admission and discharge and registration documents
Universities and Colleges Admissions Services, which can hand over university details and college placements
The DWP also have singled out PayPal as an organisation that is willing to provide information in response to a standard data protection letter but only if they say that the information is requested for law enforcement purposes.
The DWP also relies upon credit reference agencies for their investigations regardless of the fact that people being investigated are more likely to be in debt and have a poor credit rating. Regardless of this it's yet another avenue for the DWP to exploit.
This is an extraordinary abuse of power given to the DWP too often target innocent people. Benefit fraud levels are 3.6% of benefit expenditure whilst many claimants are being underpaid by the DWP due to error.
Whilst claiming any type of benefit from the DWP a person also waves goodbye to the right to privacy that they should be entitled to. I've seen DWP officers check a claimants social media before their appointment, thus unbeknown to the claimant they've lost a part of their privacy.
If this was happening to a person not claiming benefits they'd quite rightly be an uproar about it. For this to happen to a claimant it's regarded as being ok. None of this is ok and we must continue to oppose the shocking treatment of benefit claimants.
If you have a social media account make sure that it's set to friends only. Check any friend requests first and be wary that some so called DWP help groups are used to survey people.
Thanks given to @mrfrankzola over on Twitter for sharing this information and making me aware of this report. Also thanks given to eerie.org for their hard work producing this report.
This Monday was the funeral of my dear friend Karl who was also a member of my group Tameside Against The Cuts. Karl provided lots of hot drinks, lifts for claimants needing help and much needed support on our weekly demos. He was a wonderful person with a very kind heart, he will be sadly missed.
If you live in the Greater Manchester area and you are disabled please join Manchester DPAC where you will find support, solidarity and the option of joining in any activities that they are doing. You'll find them over at https:\\manchesterdpac.com
If you are unemployed and would like to join a trade union head over to https:\\join.unitetheunion.org
Please can you read, share, tweet, email my blog and this post. Sharing helps enormously to raise awareness and it actually helps people.
I don't receive any payment for the work that I do and it's a struggle. If you would like to donate to keep my blog and campaign going there's a donation button at the top and side of this blog post. Thank you.
A huge thank you to everyone that has and does support my blog and campaign, You have literally kept me going through this very tough year and the loss of my son. I'm not sure if I can celebrate Christmas this year.
I will be blogging next week and hopefully it will be a festive version.